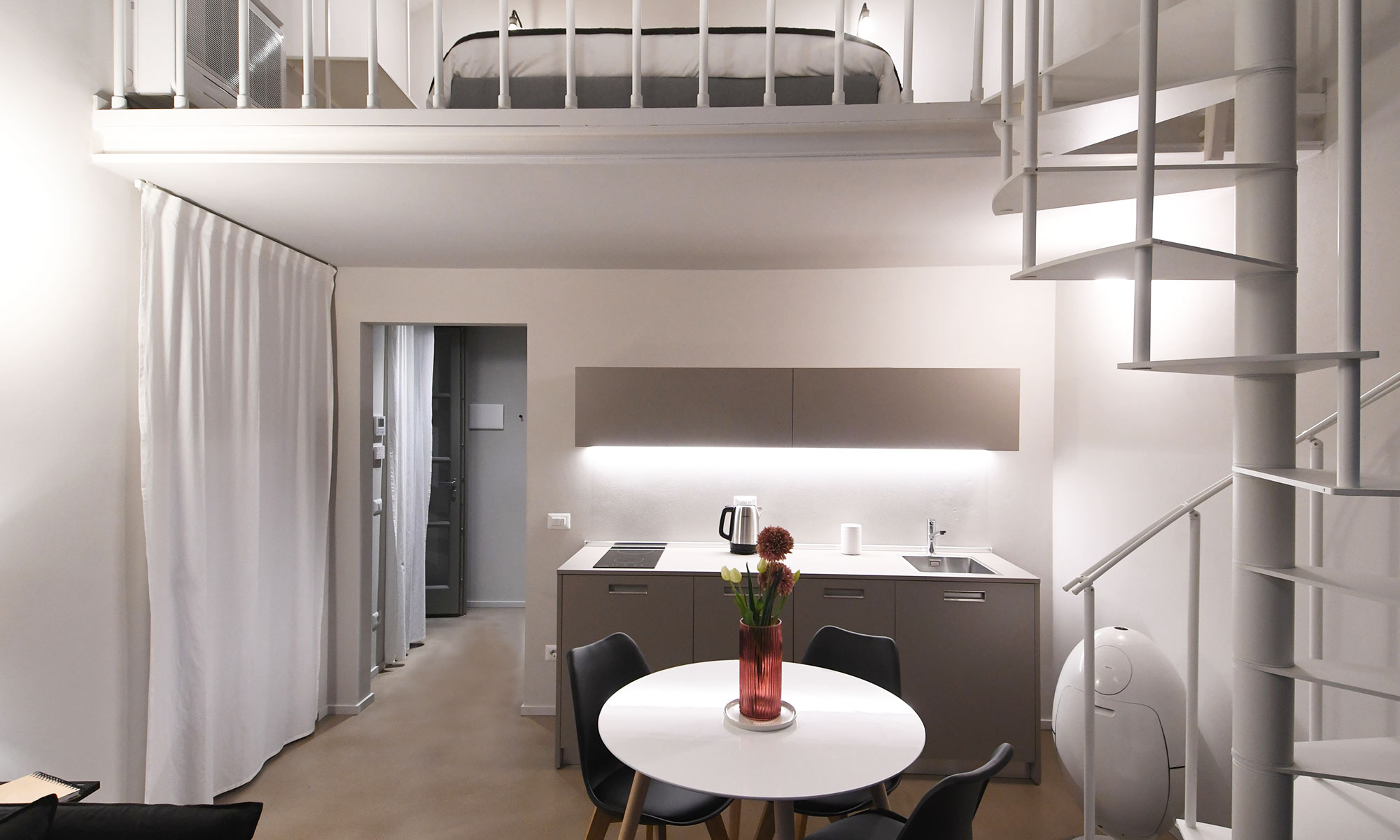 Flats amenities
All Bifora65 apartments are equipped with every comfort necessary to make your stay even easier and more pleasant.
Smoking is not allowed inside the apartments
Animals are not admitted
Parties and barbeques are not allowed
Bifora65 is not suitable for families with children
Moving around our apartments will require going up and down internal sets of stairs
Possibility to stay in an apartment all on the same floor: Flat no. 3
Absence of elevators in the structure
Possibility to access the structure by car only for loading/unloading of luggage (ZTL area)
Free availability of covered parking at the Diania garage, about 500 meters from the property
Sharing the lakeside garden with a total of 10 guests of the structure as well as the laundry space
Bifora65 has organised itself to ensure high safety standards for its guests during the Covid-19 emergency. In the face of this commitment, Bifora65 reminds its guests to always wear masks where the necessary social distancing cannot be respected and to clean their hands frequently. Together to guarantee the holiday not only beauty, but also safety! Hygiene and sanitation protocols in accordance with local authorities Enhanced cleaning and sanitation at every guest change Enhanced controls for sanitizing the equipment in the relax area of the lake-side garden
Guaranteed social distancing in the structure and in the lake-side garden Sanitation of air conditioning systems Water quality certification Staff training on health measures for guests and suppliers Use of personal security devices for staff and cleaning service Separate collection also for disposable masks and gloves Supply of hand sanitizer gel, gloves, masks in every flat and household sanitization
products
Self-declaration of guests on their state of health compared to Covid-19 (compilation on arrival day)
To discover. To taste. To listen. Starring Orta san Giulio
There are many special places enclosed in the ancient medieval village of Orta san Giulio. Bifora65, located in the city center, will allow you to easily reach the Sacro Monte on foot, to visit its extraordinary frescoed chapels and enjoy the wonderful view on the island; the central piazza Motta, with its sixteenth-century Palazzotto, where you can organize lake excursions by boat or rent motorboats.
Just 900 meters from the property is located the Relais et Château Villa Crespi, with the renowned Michelin Starred cuisine by Antonino Cannavacciuolo, while in the town center, the Locanda di Orta offers its gourmet restaurant awarded a Michelin star. In the summer season you can easily reach the Orta Festival venues, a high-level international event dedicated entirely to classical music. The parish church of Santa Maria Assunta and the Basilica di san Giulio, on the island carrying the same name, are in fact the usual and fascinating frames.